Hot Tub Cottages Which Are Ideal For Your Holiday
Searching for such as specific holiday can be prove difficult – an you're not alone, there lots of people searching for a cottage break with a hot tub.
This is why we've brought together hundreds of cottages, lodges and log cabins with hot tubs from multiple providers of UK self catering accommodation, as well as a range of privately owned holiday homes to make it so much easier for you to find that ideal accommodation which fits the bill perfectly.
Our cottage accommodation finder searches holiday homes from privately run family businesses, Booking.com, Sykes, Luxury Coastal, Hoseasons' cottages and Cottages.com to quickly and effortlessly show you the choice available.
As well as searching a wide range of accommodation provider sites, you can also narrow your results. This means if you're wanting to find somewhere that sleeps 4 in Cornwall, 6 in Yorkshire which allows pets or a large cottage suitable for a group fishing holiday that sleeps 10 – you can do just that. No more trawling through numerous lets which turn out to be dead ends as they don't allow dogs or there aren't enough bedrooms.
A Look Inside A Cottage
Cottages tend to have a lot of character and an individual style, as you will well know.
However, so you can get a feel for just how cozy and relaxing these types of lets can be, we've put together a layout of a cottage which has a private hot tub.
Downstairs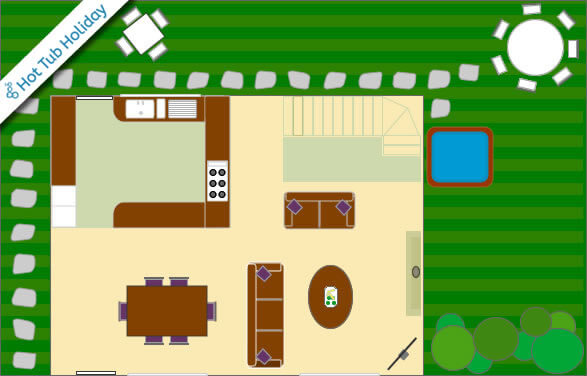 Upstairs

As you can see, holiday cottages are a great accommodation choice for a short or long break away. A little home from home but with a rustic, cozy feel and often extras which make all the difference like an open fire and a jacuzzi bath.
There are many cottages, all shapes and sizes so whether you're taking a break away as a family, group of friends or just as a couple you should be able, with our help, to find that holiday let which ticks all of your boxes.
Accessibility
Traditionally, and as illustrated above, cottages are usually split on 2 levels. If you, or someone who you are thinking about taking a break away with has any kind of mobility issues you may find a lodge to be better choice than a cottage. Whilst it's not unusual for a lodge to have two levels, it is much more common place for lodges to just have a single level, making possible complete access that much easier and you should have more choice which will suit your requirements.