Log Cabins Are Suitable For All Party Sizes And Budgets
There is a wide variety of shapes, sizes and depending upon your budget, the amount of luxury on offer from different cabins.
Lodge Or Cabin?
There isn't a huge amount of difference between some lodges and log cabins. True, at one end of the scale you have the stereotypical lodge which has a decking area and is on one level, right through to the traditional log cabin which is set over two floors with a peaked roof – but there are those which "muddy the water" and make it difficult to know whether it's a cabin or a lodge. This is why on this website we have grouped these types of holiday lets together. Therefore, when you complete your holiday let search, you will notice your choice of holiday homes to select from is either, a cottage or lodge / log cabin.
Sleep 2, 4, 8…To…Many
As we've mentioned, a popular reason why log cabins are booked up is usually because they can accommodate a large number of people. This makes then the perfect choice when going away with the whole family or large groups of friends.
Generally speaking, you will quite often find cabins have 2 levels, so they have ample room for bedrooms unlike a lot of lodges which are often found on one level.
What's It Going To Cost…Is It Good Value For Money?
Price ranges do vary, quite widely depending on size, location and the time of year – as you'd expect.
When working out the actual cost per couple per night or per person per night is when you can really see just how 'cheap' and affordable a luxury cabin break can be. Here's an example: If 8 of you are staying for 3 nights with a total holiday cost of £1,100 then this works out to be under £46 per person per night – great value.
Layout Of A Large Cabin
Peer inside and you'll often find the owners of these amazing lets have gone to endless lengths and great trouble to provide everything you could want from such a place. Take a look.
Ground Floor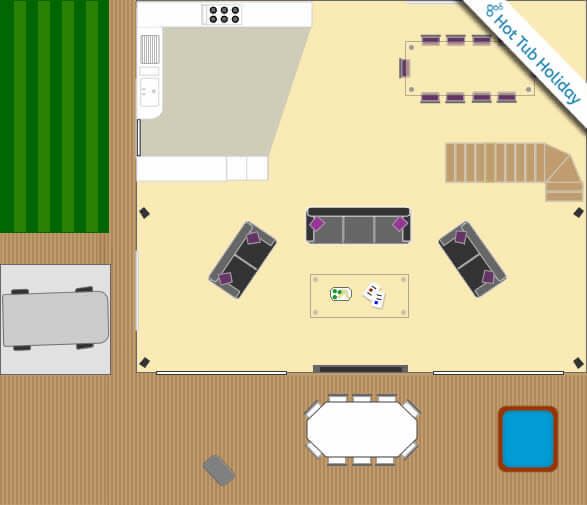 Upstairs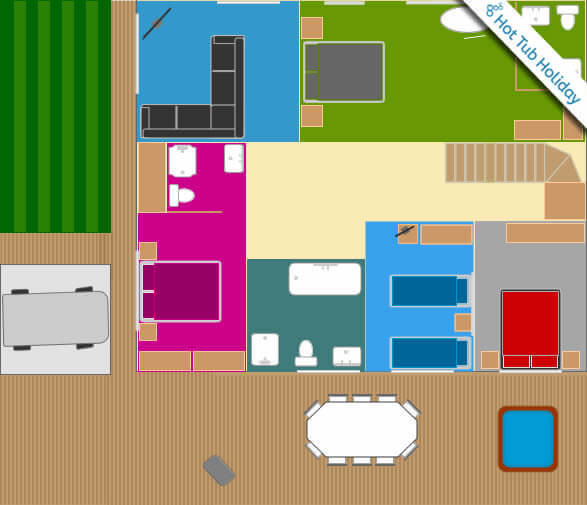 The image above will help you picture the scene inside – and we're sure your cabin with its wood throughout, tasteful furnishings and mod cons will look and feel so much better than you can imagine.
The finishing touch and the cherry on top, is of course, the hot tub!