Wanting to find a lodge or cottage near to Alton Towers that has its own hot tub?…then you're in the right place!
It's a great idea to combine your hot tub break right on the doorstep of one of the best theme parks in the UK.
✓ Luxury of the hot tub
✓ Excitement of Alton Towers
✓ Lodges, cottages and cabins available
Quick Search: Use the 'Instant Search' finder above – select 'Alton Towers' for the location and just click the green 'find' button to see holiday lets with hot tubs near to the theme park.
Advanced Search: Click the large green button below the Alton Towers logo. Then, you can select your search criteria and by entering 'Alton Towers' as your search location you will be shown accommodation with hot tubs in Derbyshire, close to Alton Towers.
By going for the luxury of a hot tub with your holiday accommodation you will be making your break away even more special. Find an appropriate cottage or lodge with a hot tub within driving distance of Alton Towers and you have a recipe for a great holiday.
A Few Rides To Look Forward To
Oblivion
– Goes over 65mph!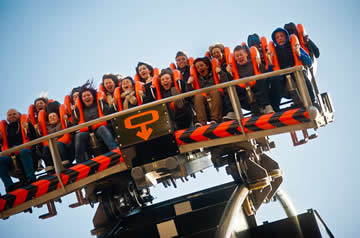 Congo River Rapids
– 6 mins of fun on the rapids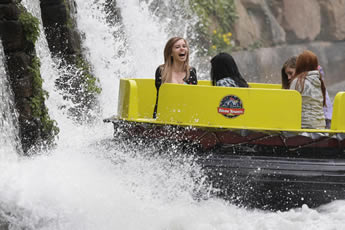 Runaway Mine Train Ride
– One for the less daring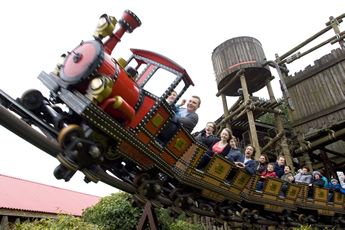 After a thrill seeking enjoyment of all kinds of rides from stomach churning rollercoasters to the more relaxed swings – not forgetting the miles of walking you'll have done – you'll have had a great day but are thoroughly knackered and in need of some rest and relaxation.
This is where you'll be pleased you booked the accommodation with the hot tub. Arriving back at your olde-worlde cottage or modern pine lodge and then hopping into a bubbling hot tub with water approaching 40°C – your aching muscles will be soothed and you tired mind will be able to relax – just what you need to wind down after an enjoyable day.
How To Find Lodges and Cottages Near Alton Towers?
Our interactive map can be used to pin point the location of lodges, log cabins, cottages and holiday homes with hot tubs. Visit our accommodation map page and enter 'Alton Towers' into the box labelled 'Location'. From here, if you wish you can also select the type of accommodation, add your dates, how many it sleeps, if it is pet friendly. You can pick if you would like your accommodation to have fishing close by.
For some, enjoying a self catering break in a lodge or cottage is a great alternative to staying in a hotel near or at Alton Towers resort – if you're one of these people then feel free to use our accommodation finder to help a suitable holiday let. While there are plenty of cottages and lodges near Alton Towers with hot tubs , please note that availability can and often does go quickly – this is especially true in the school half term breaks and Summer holidays.
Alton Towers address is: Alton, Staffordshire, ST10 4DB.