Opinions From Users Of hottubholiday.co.uk
Over the years we have ran quite a few polls here on hottubholiday.co.uk. Many thousands of people have been kind enough to vote and give their opinion.
Here is a small write up to show the results in one place.

Poll Number 1:
When Booking A UK Break, How Important Is It That Your Accommodation Has A Hot Tub?
We ran this poll for 47 days and ended on the 11th May 2012 with 205 votes being cast. You can read our full write up on poll number 1 here.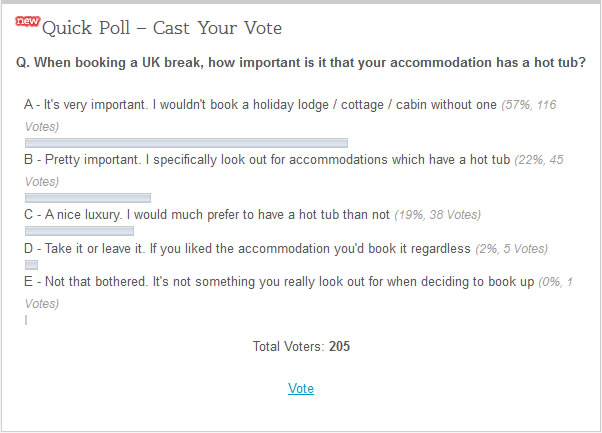 The poll results – shows our visitors really value a hot tub at their lodge, cabin or cottage
Poll Number 2:
Who Are You Going Away On Your Hot Tub Holiday With?
This poll was live for over 124 and had 574 votes cast. The results and some general 'takeaways' from the votes can be read and found in our write up here.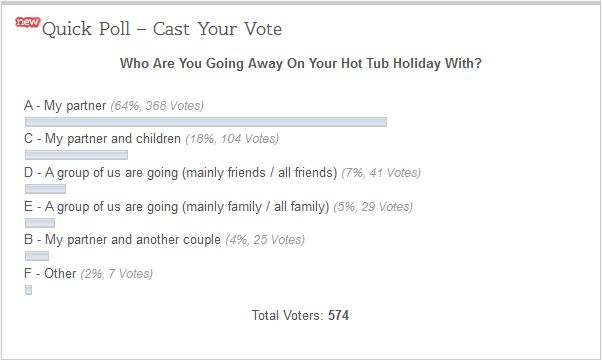 The poll results – shows hot tub holidays are popular amongst couples
Poll Number 3:
Write up omitted.
Poll Number 4:
When Are You Looking To Go On Your Hot Tub Holiday?
Although this poll was only live for not much more than a month we had 220 votes. You can see and read more about the results in our write up here.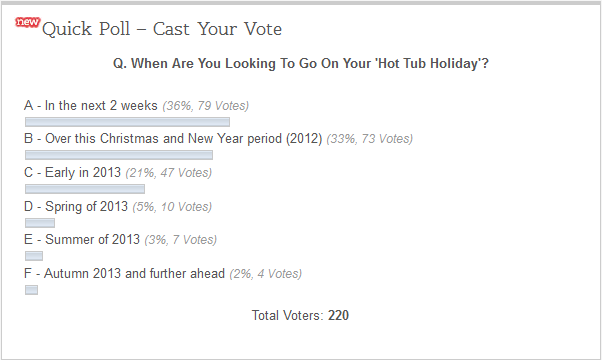 Poll Results – When Are You Looking To Go On Your Hot Tub Holiday?
Poll Number 5:
Which Location Are You Wanting To Enjoy Your 'Hot Tub Break' In?
Our largest response to a poll so far. We had nearly 1,500 registered voters who told us the area / region where they are looking to book up for their holiday – here's the post write up.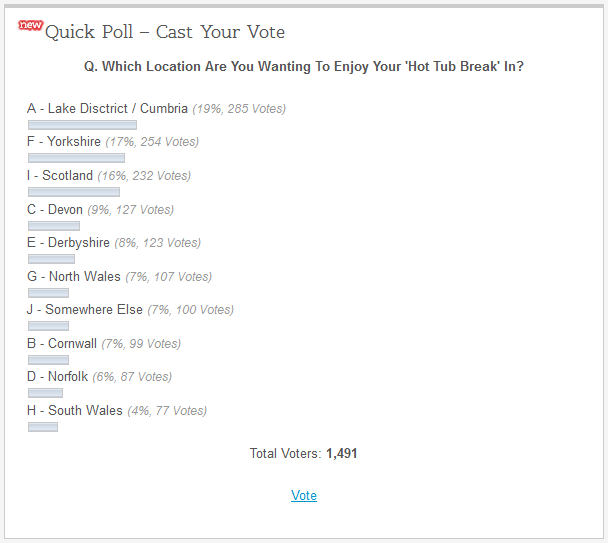 Poll Number 6:
Which Season Would You Most Prefer To Enjoy Your Hot Tub Break?
Ran through the summer months of 2013, 121 people voted on their most preferred season in which to enjoy their UK hot tub break. We've published the poll findings together with some pondering on the whys – take a read here.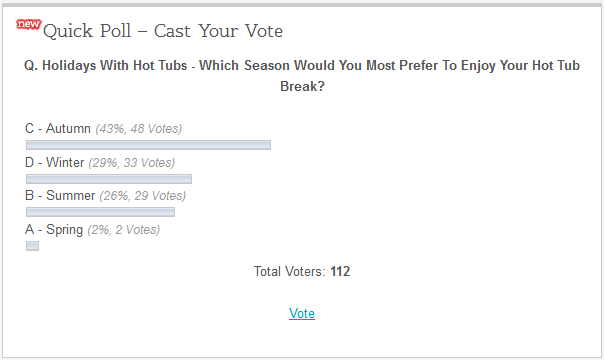 Poll results – preferred season